Eric van der Westen's Private Time Machine: Us-Min(G)-Us Album Out Now
In 1999 Eric van der Westen organised a music project with his large band Quadrant Extended concerning the contemporary view on the music of the great double bassist/ bandleader & composer Charles Mingus by modern composers. Thus 9 composers were asked to share their view on the music of this jazz icon. It was named: Me, Myself And I- Looking At The Music Of Charles Mingus  and is still  available via the streaming platforms.
20 years later Van Der Westen has started a sequel to this project. In the light of the global political turmoil he became aware that the social issues that Charles Mingus criticized  via his compositions haven't changed even a bit. It seems as though there hasn't been any serious progress in the development of a free, equal and peaceful society for over 70 years.
Gieske-Strijbis Fund Winner and Jamaican Native but New York raised artist Jimmy Rage  wrote a series of powerful poems inspired by Mingus' work and the general position of  surpressed people in our world and performed them as a leading voice in the project.
Us-Min(G)-Us is played by a 10 piece ensemble called Private Time Machine; which is the current artistic vehicle for larger pieces of Eric's  work. Now the band contains 2 drummers: Pascal Vermeer and Ruben van der Velde, 3 horns: Koen Smits on trumpet, Guido Nijs on Tenor and Efe Erdem on trombone and 2 keyboards Martin Fondse and Jeroen van Vliet, guitar: Aron Raams, Poetry: Jimmy Rage and on electric bass: Eric van der Westen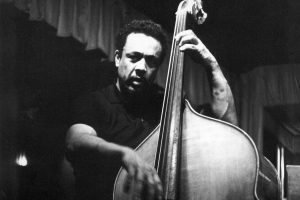 The music will contain some of Charles Mingus's most known compositions: Better Get Hit In Your Soul, Goodbye Pork Pie Hat, Fables Of Faubus, Free Cell Block F; tiz Nazi USA, Remember Rockefeller At Attica, Haitian Fight Song, Jump Monk and the less wellknown beautiful ballad Farewell Farwell. All this material is rewritten to fit the band concept and was released on September 9 2023 in Paradox Tilburg The Netherlands.
The band will tour The Netherlands from November 25 to December 14 2024.